What is An Auger Machine? 
An auger is a spiral-shaped device that is used to drill any surface horizontally.
It is made up of a helical-shaped blade that drills the surface evenly removing excess waste.
There are different types of augers including wood auger, ice auger, and earth auger depending on the purpose. There are enormous uses of an auger too.
Step by Step Guide: How to Use an Auger?
Having proper knowledge of how to use the auger is compulsory to avoid errors and damage.
Getting started:
Before you begin, get the tools ready.
Here is a brief note on how to use an auger efficiently.
Step 1: Safety First!
Safety should be the priority behind all the needs.
If the operator is an inexperienced person, reading the manual before using it is important.
Be it an inexperienced or experienced professional handling the work, having all the precautions followed is necessary.
Wearing proper cloth and covering efficiently is important for ensuring hair or clothes are away from the machine.
Keep your eyes and ears closed with goggles following the manual provided.
Step 2: What's the working condition?
Check the proper condition of the auger.
The common wearing parts, such as the screw bit, teeth, and all the parts must be inspected before using it.
If not, it could lead to incomplete work or poor perfection.
Not checking could cause poor auger flight leading to poor removal of excess wastes.
Step 3: Fuel source, yes or no, check it?
Using a powered fuel requires filling the fuel sufficiently as per the needs whereas a hand auger does not require so.
If the auger used is a skid-steer, mini-excavator, or backhoe loader, ensure the pressure settings are proper for a regular hydraulic flow.
Step 4: Best positioning, easy digging
Place the auger properly on the place you want to dig.
Make sure that the area to be dug is safe underneath ensuring there are no heavy rocks, trees, roots, gas or water pipes, or electric wires are avoided.
Calling an underground locating service is better to locate the spot of buried lines or utility lines.
Checking the density of soil is also an optional choice. More safety measures are required when the digging place is a slope region.
Step 5: Ready to go!
As the drill is placed in position, start the engine as instructed.
Make sure to wait for the engine to be heated up properly without choking.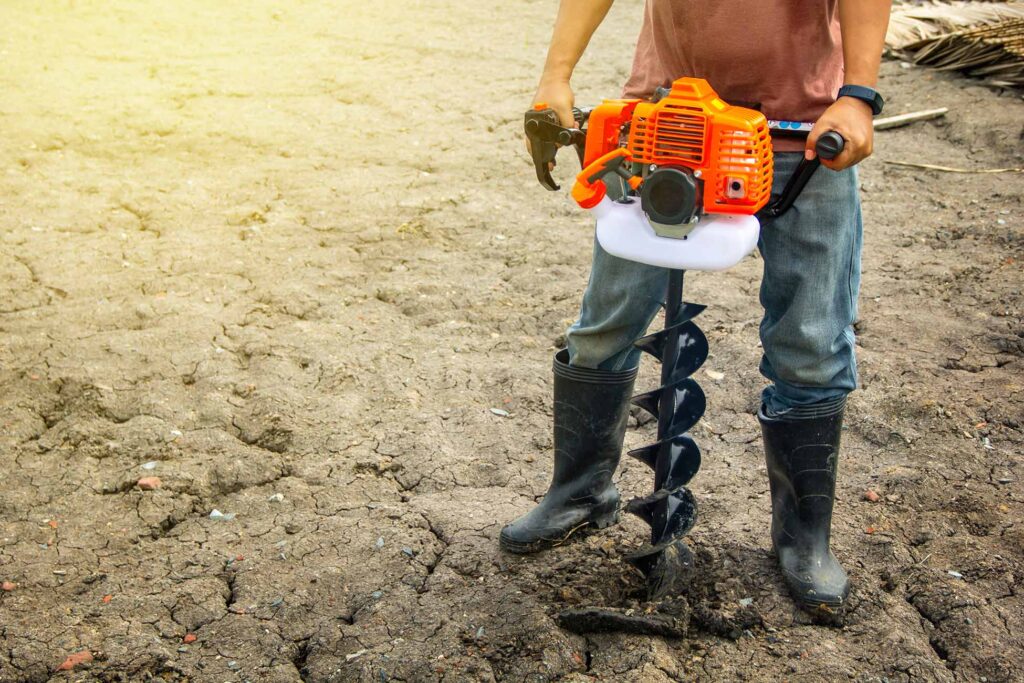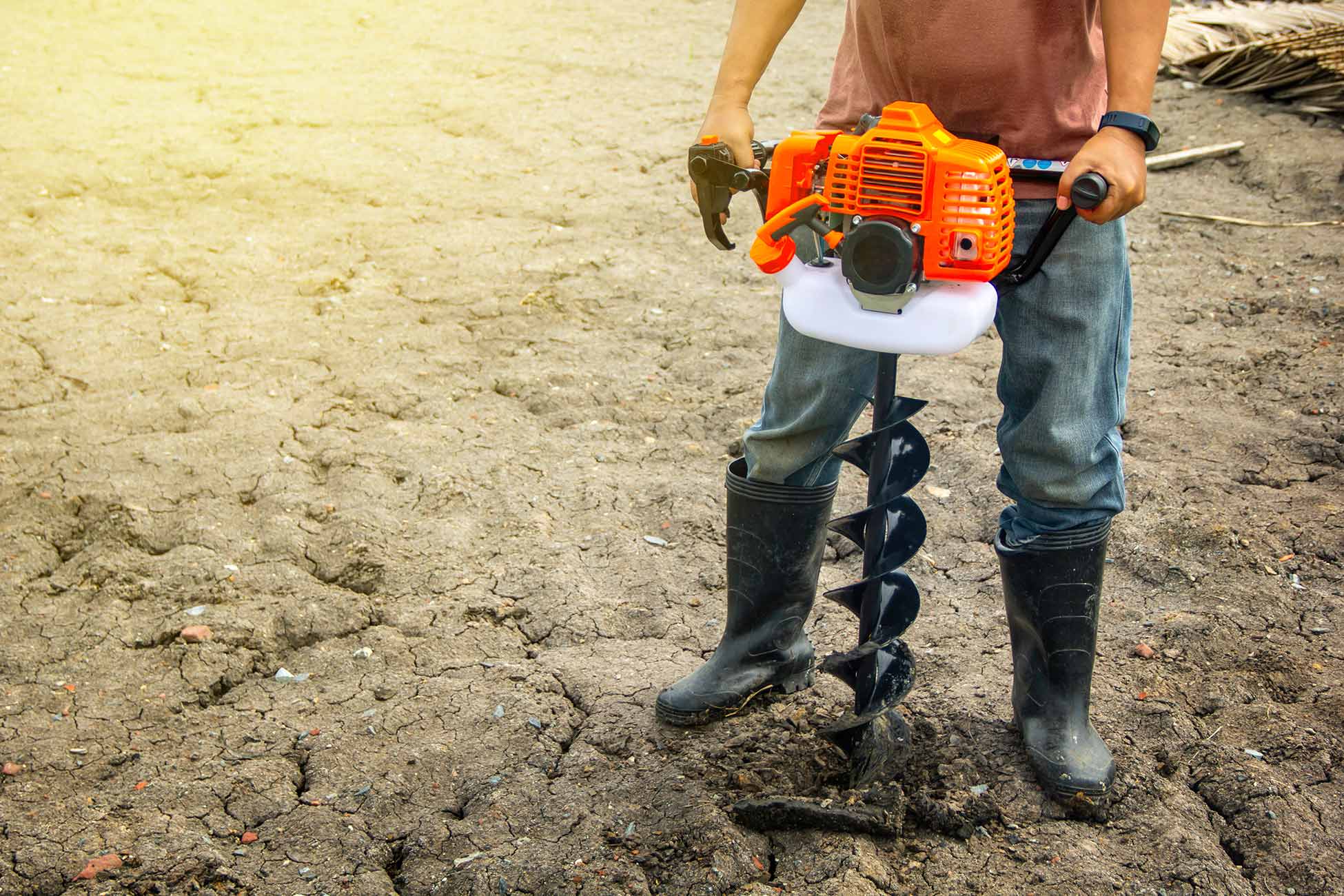 It could take time and may require more pulls depending on the functionality and climate.
Stop the machine immediately even if a single component is found to be not working properly.
Check the error and then resume the engine.
Step 6: Stay at a distance
Usually, the auger is designed to run keeping the operator away from a distance.
Positioning the machine improperly could cause a risk of damage or injury.
A properly functioning digger will run at full speed depending on the soil condition with a perfect clutch and consumable power.
Step 7: Necessary kickback.
Having all the precautionary checks to avoid rocky places could still fail with obstructions during running.
A kickback force must be present with the operator to be released at full speed when any kind of obstruction is noticed.
Having a kickback also needs sufficient knowledge.
Being at a comfortable distance keeps the left side of the machine close to the operator's left side area and the upper arms close to the body.
Step 8: The machine can't handle your weight.
Make sure no bodyweight is adding pressure to the machine as the auger digs down the ground.
Having a steady grip and firm handling is necessary.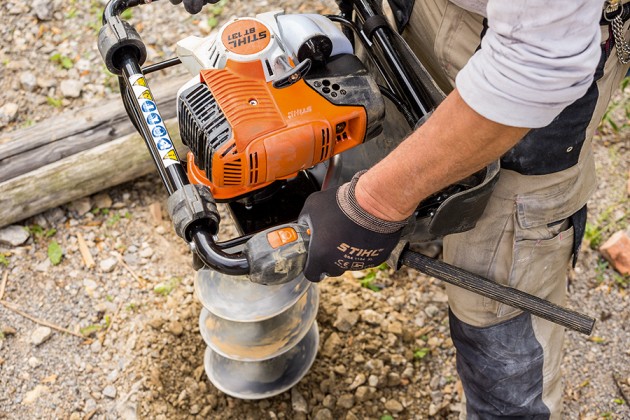 Step 9: Slow, small, and steady work digs a greater hole
To dig a hole of large diameter, start with small holes.
Adding pressure depends on the density of the soil too.
A perfect experience is required for the operator to prevent the augers from being buried in the dig itself, this usually happens when the machine was run at an excessive rate than usual.
Step 10: Do not take a risk!
Any unwanted noise or a resistance feeling is heard or felt, so turn off the engine immediately.
Step 11: A long-lasting machine is the one safely used,
If not so and the desired depth or hole is reached, turn off the machine properly and slowly remove the drill from the ground.
Make sure the drill has stopped completely before removing the drill from the place.
Step 12: Three choices of repositioning
Any work is an art. More experience in the work tends to be.
A well-experienced operator has three ways to dig holes at different spots.
One is to make a shallow dig by simply leaving the digger connected to the auger, another way is to disconnect completely and shift the configuration, and the last option is for the auger to remain attached while the digger does its work.
Step 13: Safety removal as safely positioned
The same safety measures should be followed during the beginning, all through the process, and even while removing the machine.
Following such usage suggestions could help in a clean work. But with good experience, more knowledge is earned as the equipment is used each passing day.
The world is moving faster each day, new updates and the latest technologies are evolving in every good including an auger machine.
Having the right knowledge and being in trend with the market can make use of more smartness and ease.
And yes, different types of augers vary in specification and usage which must be checked. Following regular guidelines and reading the manual given is mandatory.
What is the depth of a power auger's digging ability?
The auger usually digs deeper than 3 ft. into the earth, but an extension rod is required if needed for more depth.
When extending a rod, it can reach a depth of 4 feet.
Best Auger for Digging Holes
5 FAQs on how to use an auger
When should I use an auger?
An auger is often used to break through asphalt that has weakened over time.
You may also need to use an auger if tree roots have pushed up your driveway, or if the ground underneath your home isn't stable.
If you're having plumbing problems, you can also try using an auger to clear out any obstructions.
What are the benefits of using an auger?
It's efficient and accurate, which means you don't have to spend a lot of time shoveling or chipping away at hard material like asphalt or concrete.
With the right tool for the job, you can break through these materials quickly and easily.
What type of auger should I use for my project?
There are a few different types of augers available on the market, so it's important to select the right one for your specific needs.
If you're unclear about which type of auger to purchase, consult with a hardware store associate or read online reviews to get a better idea of which model is best for your project.
What should I do if the auger becomes stuck?
If the auger becomes lodged in a hard material, try using a metal pipe or another long object to help dislodge it.
You can also try pouring water over the material to help soften it and make it easier to breakthrough.
Are there any safety precautions I should take when using an auger?
Make sure to wear protective eyewear and clothing when using an auger, as debris may fly up into the air as you're working.
Be especially careful if you're breaking through a hard surface like asphalt, as the material may be sharp and could cause injury.
Augers can be extremely helpful tools when it comes to breaking through difficult surfaces.
By following the tips above, you can make sure that you're using your auger safely and efficiently.